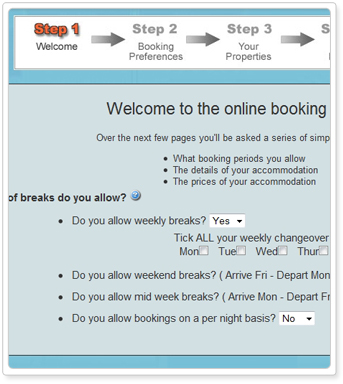 The system is brilliant. It has enabled us to take money securely and automatically 'while we sleep'.
Marcus Milton, Peak Weekends and rentavilla-crete.com.
Show live accommodation availability and take your client bookings 24/7 through the secure online booking system from Holiday-Bookings-Online. It's easy to add to your website, provides fast and reliable booking pages which are up to 10 times faster than other online booking systems.
Easy to add to your website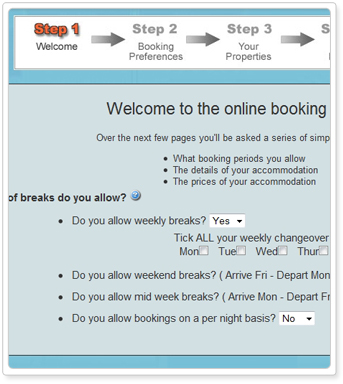 Getting started is easy with the getting started wizard.
Getting started is easy using the set up wizard. The step by step approach will lead you through the simple online booking installation process. Just add an HTML link from your website to create your own online booking pages. There is no complex installation and adding the link is a simple 10 minute job for most web designers. The system works with virtually any website hosting.
The comprehensive but easy to use management control panel lets you manage your bookings, print invoices and provides you with the facility to set up a range of booking preferences from short breaks to special offers.
The control panel is accessed via the Internet so you can access your bookings from multiple locations – your office, home or even on holiday!
Back to top
Secure online payments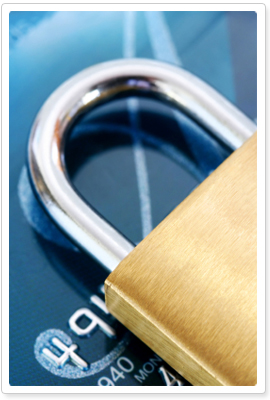 Take payments quickly, easily and safely.
By taking online payments for bookings, there's no waiting for payments, no postal delays and both you and your customers have a secure transaction. Using PayPal for payments is quick and easy to set up. No complex coding – just sign up for a PayPal account. Alternatively if you have a merchant account, this can be integrated via SagePay, SecureHosting or other payment gateways. If you have a card processing terminal then our secure card capture option may be useful.
Holiday-Booking-Online offers you a small fixed annual fee which means that you will save money over commission bases systems and you will always be in control of your costs.
Data safety and security is critical to online bookings. Holiday-Bookings-Online is a UK based organisation which is registered under the Data Protection Act and provides first class UK based customer support by email. Premium accounts include support over the phone for UK based accounts; you'll speak to an expert who can help you. Your data and bookings are backed up daily to a separate secure location.
Back to top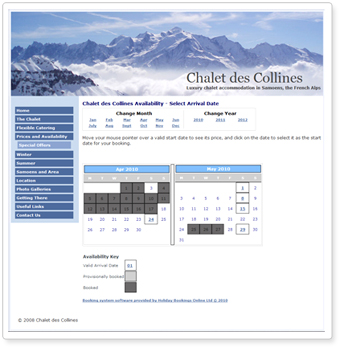 Integrate booking pages seamlessly with your web site.
Custom design pages
Your online booking pages can be custom designed to seamlessly integrate with your website design with the optional custom page upgrade.
It takes a little more time to design and integrate but custom pages appear virtually identical to your website template design and provide potential customers with extra confidence in your online booking system.
We provide basic or comprehensive customising services for a small additional fee or you can ask your web designer to make the changes for you. Prices start from as little as £39 + VAT.
For more information click here.
Back to top
Everything a holiday property owner needs:

Back to top